James Mossman - Ben Chaplin
Marko - Aleksandar Mikic
Walter - Angelo Paragoso
Joan Marsden - Tilly Tremayne
Robin Day - Paul Ritter
Ray Ray - Bruce Alexander
Daneil - Leo Bill
Cameraman -John Cummins
Louis - Chris New
Molly - Gillian Raine
Harold Wilson - Patrick Brennan
Rosamond Lehmann - Angela Thorne
Mrs Rudge - Tilly Tremayne

Directed by Richard Eyre
Designed by Rob Howell

in it's premiere run at the Cottesloe H 31

Celebs in the Audience :- Janet Suzman, Patrick Marber, Liz Miller.......
A wonderful production made all the more fun by getting a standby priced ticket in the house seats (best seats).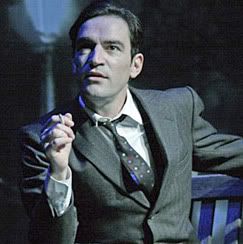 The true story of a BBC reporter. Whist being compared to Frost Nixon by the lazy critics this is a totally different approach. Frost Nixon was a clever observation of one particular event and thus exposing the emotional and strategic conditions of the central characters. The Reporter is a suggestion of a biography centered around his emotional state which is described by particular events that shape him and eventually might have led to his suicide.
Where both productions do delight in equal measure is in the detail of the times they are portraying and the cultural observances.
Ben Chaplin
is on stage for the entire duration and gives a seamless performance, swtiching from reportage to the audience and participating in the various vingettes. The supporting characters, many of them well known in their day were cleverly cast and the progression of the bumbling Daniel was also a charm to watch. I found it very amusing to see Harold Wilson always sucking on a cigar until seconds before he went in front of the camera when he fired up his famous pipe.
As with Mr Wright's beautiful 'Vincent in Brixton' the content of much of this play is pure conjecture in the absence of known fact. Some might question the worth of that but in such careful hands it makes for exsquiste drama.
The
Evening Standard
review.