DAVID AJALA - Lord
SAM ALEXANDER - Dumaine
EDWARD BENNETT - Navarre
RICKY CHAMP - Costard
EWEN CUMMINS - Dull
ROBERT CURTIS - Forester
TOM DAVEY - Longaville
JOE DIXON - Armado
KATHRYN DRYSDALE - Katherine
SAMUEL DUTTON - Lord
OLIVER FORD DAVIES - Holofernes
RYAN GAGE - Lord
MARIAH GALE - Princess of France
MARK HADFIELD - Boyet
ANDREA HARRIS - Lady
JIM HOOPER - Sir Nathaniel
KEITH OSBORN - Marcade
RODERICK SMITH - [walking understudy]
NINA SOSANYA - Rosaline
RIANN STEELE - Jaquenetta
DAVID TENNANT - Berowne
ZOE THORNE - Moth
NATALIE WALTER - Maria

Director GREGORY DORAN
Set Designer FRANCIS O'CONNOR......... In The Courtyard, Stratford second row, centre stalls with Mr Tennant Snr in the audience.
I had a perilous journey through weekend homebound traffic that left me with 8 minutes to spare and no time to freshen from a day working and a three hour drive.
This production
evaporates any of those concerns.
It is ridiculous fun from start to finish. The stage is wonderfully simple and yet adequate, incredibly pretty and fittingly romantic.
Here is a joyously balanced ensemble with no grandstanding or upstaging.
A silly story coming from nowhere and not really going anywhere too important but the chance for such wit in the words that plot hardly matters. Every character's return to the stage is welcomed with relish and I am convinced that some of our best loved comedy sketch shows may have been inspired by this format. This is an Elizabethan Catherine Tate or Little Britain.
I have seen so many productions from the time Oliver Ford Davis spent at the National with David Hare's sharp political trilogy and many others. In this production he is wonderful and clearly relishes the fun of the role with his downtrodden and serious visage.
We were fortunate enough to attend on of only two nights, so far when Mr Tennant successfully lodged his hat in the branch of the tree. I would recommend the application of magnets for future performances, if his aim is tolerably good.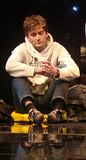 The conversation from this co-operative of actors in the 'Post Show Talk' spoke of passion, integration, and job satisfaction that many a high powered company could envy.
The evening was rounded off in the pub next door with many of the cast joining the heaving crowds for Halloween fancy dress.
You can't put a price on a time like this.